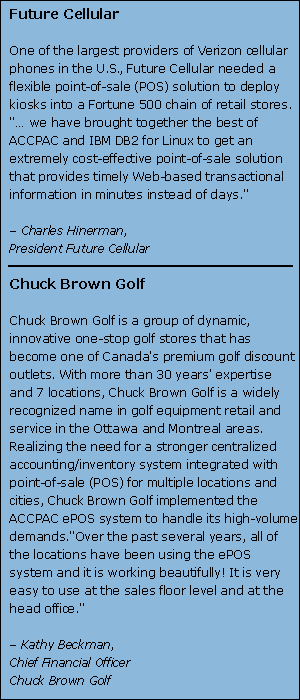 ACCPAC ePOS is a comprehensive Point of Sale (POS) solution for fast-paced, high-volume, multi-site retail operations. Whether you need to manage a single retail location, or face the challenge of tying together dozens of stores with multiple POS registers at each location, ACCPAC ePOS offers you full integration with your ACCPAC Advantage Series solution. With ACCPAC ePOS, you can keep your finger on the pulse of your retail activities. Integration with all retail technologies (including barcode scanners, real-time credit card processing, weigh scales, pole displays and more) further increase your check-out speed and accuracy while providing real-time integration and reporting across the enterprise.
Internet-based Design
By deploying over the Internet, ACCPAC ePOS offers retailers a cost-effective and easy-to-administer POS solution that scales to meet even the most complex demands of retail chains. More than a simple POS system, ACCPAC ePOS provides a complete view of your enterprise inventory, customer activities and store management.
Your staff will quickly find this browser-based solution easy to work with and feature rich. Combined with support for all retail technologies including barcode readers, weigh scales, MSR, pole displays and more, ACCPAC ePOS works the way your store staff does. Within minutes, they will be able to complete transactions with point-and-click ease, saving you valuable training time and money. In one or a hundred checkout lanes, ACCPAC ePOS easy-to-grasp screens are designed to deliver faster, smoother sales. Cashiers make fewer mistakes. Lines move faster.
You have very flexible deployment options with a browser-based application. ePOS enables you to respond quickly and easily as your POS needs change. Finally, you can respond to seasonal demands and peak check-out times by dynamically adjusting the number of POS workstations deployed at the store level.
ACCPAC ePOS allows you and your staff to see, manage, price and control inventories across multiple locations, make informed decisions with real-time data and maintain a unified view of each customer – regardless of the sales channel.
Successful retailers know that the only constant in the retail sales world is change. A successful POS strategy isn't just about "the cash register." Today, you need integrated systems that ensure you have the right merchandise in your stores, at the right price and at the right time. You need the ability to fully understand the buying patterns of your clients – who they are and what they want. Most of all, you need enterprise-wide integration and the ability to monitor activity across all retail locations, easily and cost effectively. ACCPAC ePOS offers you all this and more.
For more information please contact us at info@altitudeinfo.com or phone (604) 598-8480.