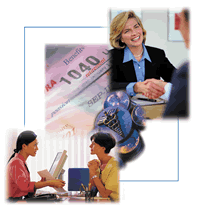 HR Series can significantly increase productivity and efficiency by reducing paperwork and manual input, and streamline your HR tasks. It automates almost every aspect of the HR process, including maintaining full compliance with government Human Resource Management requirements, such as COBRA administration and 401(k) management.

HR Series is simple to use, intuitively designed and offers maximum control over your HR information and requirements while reducing the administrative overhead and costs associated with managing your human resources. It is built to work the way people do—with screens and "Wizards" that lead non-technical users through data entry step-by-step.

The ACCPAC HR Series Employee Self-Service component automates an HR department by providing employees with quick access to HR information 24 hours a day. It helps ensure employee satisfaction by making vital HR information easily accessible to employees enterprise-wide. The module uses a company intranet and a secure connection to allow employees to view and update personal data, obtain benefit plan information and make plan comparisons. They can also check sick and vacation balances and access a complete company directory. The Employee Self-Service module is a complete Web-based solution that requires only a Web browser on an employee's desktop. It can also be easily set up to resemble a company's intranet.

HR Series fully integrates with ACCPAC Advantage Series and scales to meet the varied demands of mid-market enterprises. If you're looking to cut costs and maximize efficiency, there's no better way to manage your most important human resources than ACCPAC HR Series.

HR Series offers a comprehensive suite of modules to meet all your HR management needs including:

- HR Series Core Module (required)


- HR Series Payroll Link


- HR Series Employee Self-Service


- HR Series Applicant Manager


- HR Series Alerts Library
For more information or to request your FREE TRIAL please contact us at info@altitudeinfo.com or phone (604) 598-8480.