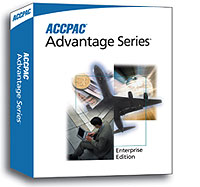 ACCPAC Advantage Series™ Project and Job Costing is a sophisticated module that provides the tools necessary to manage the simplest to the most complex contract or job. It makes the estimating, tracking, costing and billing of projects easy and manageable – simplifying cost control and planning. With the powerful features included in Project and Job Costing, you can identify potential issues and determine success factors for any project. Automated billing streamlines customer invoicing, reducing the time spent managing this process.

Project and Job Costing provides an effective solution for project managers in construction, job service and other professional industries, as well as for businesses that require a time and materials system.

MISys (Manufacturing and Inventory System) was designed to be a sensible alternative to cumbersome and expensive manufacturing management systems. It performs the advanced functions small- to medium-sized manufacturing firms need, while offering the ease of use many non-technical users require.

Since 1983, MISys has been developing an integrated MRP system in conjunction with ACCPAC accounting. Whether your needs are maintaining Inventory Control and Bill of Material or MRP, Production Scheduling and complete Shop Floor Control, MISys can handle work for you. With more than 6,000 systems installed in more than 40 countries, MISys is truly the most time-tested manufacturing solution available for ACCPAC accounting.

COSS Systems offers a full range of manufacturing software for small to mid-sized companies. We provide flexible, cost effective and powerful software to assist your company to improve dataflow allowing for increased profitability, optimized use of resources and lower cost of growth. Primarily designed for make-to-order, make-to-stock, job shop and custom manufacturers, with various configurations the software has powerful features to support mixed mode and production manufacturing.

COSS delivers full-featured manufacturing software and ERP solutions. Integrated modules include estimating & quoting, work order, process planning, advanced shop floor scheduling, material planning, job tracking & costing, scrap tracking, data collection & bar coding, time & attendance, resource utilization, preventative maintenance and many more.

For more information please contact us at info@altitudeinfo.com or phone (604) 598-8480.