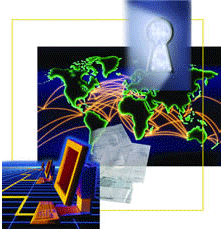 Integrated, Affordable Business-to-Business EDI Transaction Services
ACCPAC Exchange is a comprehensive electronic data interchange (EDI) solution that complies with traditional EDI technologies and offers cost-effective EDI connectivity via the Internet. ACCPAC Exchange supports global EDI and Internet standards, empowering you to conduct business with trading partners, regardless of the EDI system or Value Added Network (VAN) they're using.
ACCPAC Exchange offers back-office integration for automated transaction processing, and a wide range of deployment options designed to meet your business requirements and those of your trading partners. It easily integrates with ACCPAC Advantage Series and ACCPAC Pro Series accounting systems out of the box, as well as providing stand-alone capabilities. Whether you're using EDI today or are new to EDI transaction processing, ACCPAC Exchange is designed to help your company:
| | |
| --- | --- |
| - | Reduce business transaction costs |
| - | Comply with customer and vendor EDI mandates |
| - | Eliminate duplicate data entry |
| - | Provide timely order processing and reconciliation |
| - | Reduce error rates associated with manual data entry |
| - | Speed collection times |
| - | Improve shipping and receiving accuracy |
| - | Improve customer satisfaction with faster response times |
| - | And much more! |
ACCPAC Exchange easily integrates back-office accounting, Internet trading and the global EDI network.
Did you know? More than two-thirds of the readers polled in Electronic Commerce World (May 2002) expect to transition their EDI traffic to the Internet in the next 2 years.
To find out more information on EDI and ACCPAC Exchange please see the following:
For more information please contact us at info@altitudeinfo.com or phone (604) 598-8480.