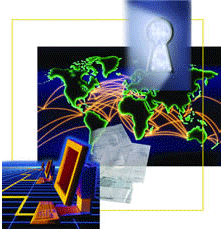 ACCPAC Exchange Benefits
Big-business Benefits Without the Price Tag!
ACCPAC Exchange offers enhanced benefits to companies that have already standardized on EDI, and it opens up new opportunities to businesses that have found traditional VAN-based EDI cost-prohibitive. With minimal infrastructure requirements and convenient monthly service plans, ACCPAC Exchange enables small and medium size companies to send and receive EDI orders, invoices, shipping acknowledgements and other documents - without the expense typically associated with traditional VANs, such as set-up fees, lease lines, interconnect fees and so on.
With support for thousands of trading partner documents and a user-friendly interface, you'll quickly find yourself looking for opportunities to conduct more of your business through ACCPAC Exchange. In fact, ACCPAC Exchange is an ideal platform for improving business efficiencies across your entire supply chain by creating your own cost-effective EDI trading community.
| | |
| --- | --- |
| - | Reduce business transaction costs by using a competitively priced solution or a low monthly subscription-based pricing model. |
| - | Rapidly comply with customer and vendor EDI mandates. |
| - | Leverage legacy EDI relationships with VANs while migrating to newer Internet standards. |
| - | Eliminate duplicate data entry and reduce error rates associated with manual data entry. |
| - | Provide timely order processing and reconciliation. |
| - | Speed collection times. |
| - | Improve shipping and receiving accuracy. |
| - | Improve customer satisfaction with faster response times. |
| - | Provide flexibility to modify and refine processes between buyers and suppliers by using a soft-coded solution. |
| - | Provide fully integrated solution with ACCPAC Advantage Series and ACCPAC Pro Series. |
| - | Offer enhanced data security and privacy through the use of accepted Internet security protocols such as encryption and digital certificates. |
In effect, ACCPAC Exchange is a one-stop, cost-effective EDI solution for all your business needs.
For more information please contact us at info@altitudeinfo.com or phone (604) 598-8480.