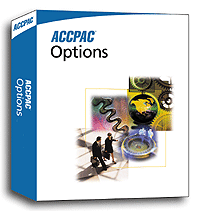 ACCPAC Options for ACCPAC Source Solutions

ACCPAC CFO:
A financial diagnostic and strategic analysis tool.

Financial Link Professional:
Financial Link Professional is a flexible report designer with powerful formatting features that transforms general ledger data into pixel perfect presentation quality statements and reports.

ACCPAC Query:
Easy-to-use report generator delivers informative business data in minutes.

ACCPAC Bills of Lading:
Provides inventory transfer planning, inventory transfer tracking, and bills of lading with support for National Motor Freight Classification codes.

ACCPAC Customer Connect:
Enables contact management for prospects, customers, and vendors, as well as event logging and single-click access to key account management information.