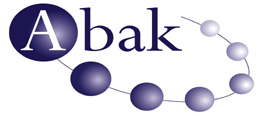 Abak Small Business is a light version of its counterparts, Abak Pro and Abak Enterprise. It is a simple yet efficient solution to manage employees' time and expenses and to invoice accordingly.
Abak Pro is a more powerful version of the software. Its extensive invoicing and report generating capabilities are unparalleled while enabling more "in-depth" budgeting capabilities to individual projects than the Abak Small Business version. Thus, also enabling more powerful management capabilities for organizations that have a larger number of projects and employees.
Abak Enterprise is the fullest version of the software. It is perfect for a company with a more complex organizational structure: multiple currency and taxing structures, managing employee time banks, extended invoicing capacities, manage subcontractor's productivity and efficiency, automatic invoicing.
For more information or to request your FREE TRIAL please contact us at info@altitudeinfo.com or phone (604) 598-8480.